As you may know, the KY legislature will consider two very dangerous bills when the session opens on January 4, 2022: BR 60 & 69, banning the teaching of Critical Race Theory in public schools and post-secondary institutions. Similar bills have passed in other states, and the state House and Senate has precious few voices willing to stand up to reactionary extremists behind these bills.
Squallis's most recent program, The Other America: An Anne Braden Story, will be available for free viewing (click the title!) from now until December 25. This puppetry film tells an important piece of local history about communities organizing against entrenched racism. As an educational program, it also represents the kind of truthtelling that would be illegal under BR 60 and 69.

We invite you to a free public screening of the film on Saturday, December 18: 4-6pm, at Highland Community Ministries (1228 E Breckinridge). Teachers, students, parents — all are welcome who want to learn from each other how to unify against this dangerous legislation. The film will be a point of discussion, and we want to hear from local organizers — and from you! — about strategic action against these bills, as well as the censorship and denial they represent.

We also have a fundraising goal of $5000 in these next two weeks — a fund to bring "The Other America" (plus wider antiracist curriculum) for free to many more classrooms throughout 2022. <click here to donate> — and please note if you have a school or other audience where you'd like us to share the program. If you are interested in bringing the program to your school or classroom, please reply to squallispuppeteers@gmail.com
Many thanks and solidarity to you all!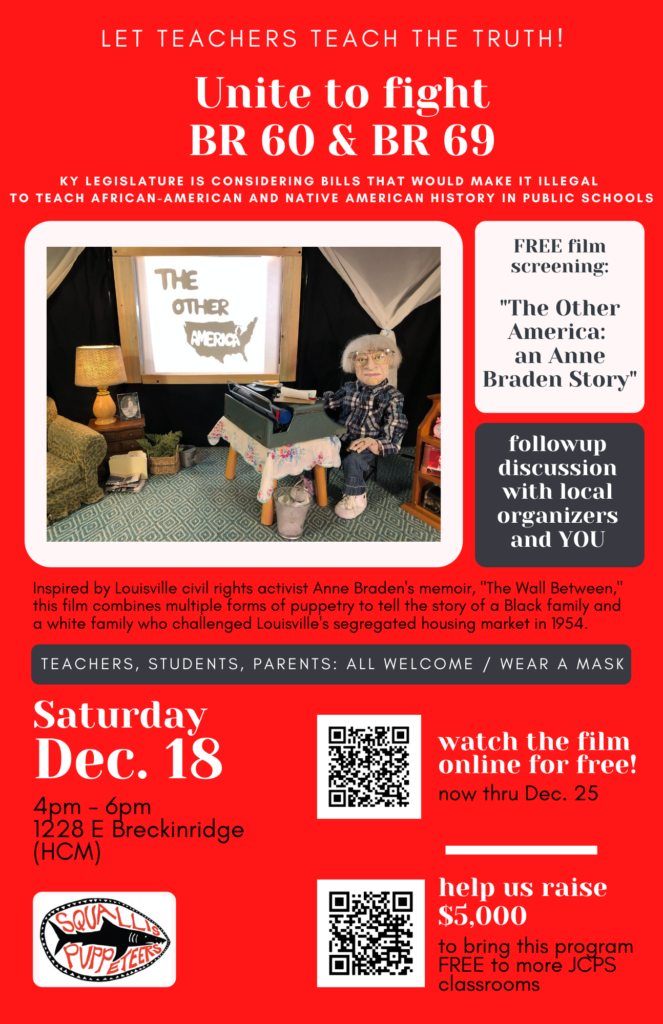 Our friends and family are invited to participate in a free screening of the film, "The Other America" between December 11 – 25, 2021, as well as an in-person screening and discussion on December 18, 2021. Complete the entry form and you may also qualify to have an in-person screening at your school or venue. More than one winner is possible if additional fundraising goals are met. To donate, please check out our fundraisers or go here.